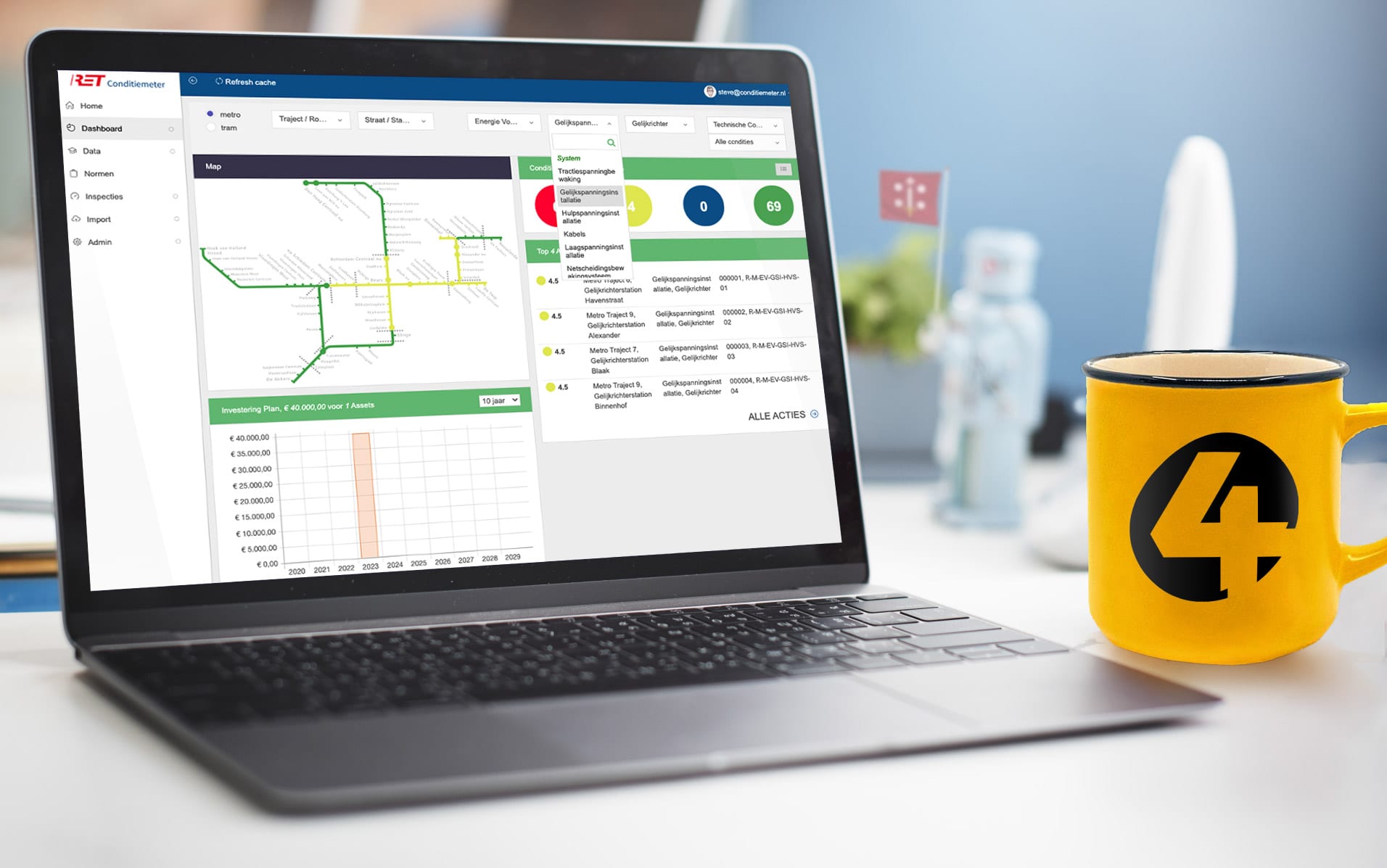 RET Conditiemeter
The Condition Meter provides a clear overview Of chich conditions, assests or systems need to be replaced
Client
Rotterdamse Electrische Tram (RET) N.V.
en Stevin Technology Consultants B.V.
Expertise
Development Strategy
Technical Design
Web Development
Lean Development Process
Technology
HTML en CSS
Javascript
PHP
React.js
Symfony
About case
RET Condition Meter is an online dashboard and monitoring system for administrators, the maintenance engineers and management of regional public transport in and around the city of Rotterdam. However, specialists from RET wanted an annual asset condition measurement and other data and have continuous insight into their assets. It is important that the developed web application is easy to use. Especially that the administrators and the maintenance engineers behind maintenance and inspections can easily make adjustments, for example by adding new standards and other types of assets. We have been able to achieve this by realizing custom software development.

Stevin Technology Consultants B.V. has asked us for technical advice and a tailor-made solution build a web application. Just having a 'web application built' is not enough to build such a complex successfully launch the project. Together with the team we were able to choose the best software solution – management dashboard for internal use with a datawall based on Symfony and the 4BIS Cloud Webhosting.

The realization of 'RET Condition Meter' has been built in phases. As a software development company, within 4BIS we believe in a 'lean approach', which is why we went live with the first version as soon as possible. The best option was to share the custom software development in scrum sprints, which was done together with the specialists from RET and Stevin we were able to make the best choices and integrate deliverables into the daily life of Company. Every week new features and functional improvements were put online. It resulted in quick feedback and short lines with direct users of the platform. The complexity of the data structures surrounding the assets (such as track, switches, transformers, elevators, etc.) leads to the development of various widgets, KPIs, overviews with filters in the 'condition meter'. Together with the customer we have developed the second version of Condition Meter – Performance Meter. Performance Monitor is an extension of Condition Meter where assets and management specialists from RET can gain insight in the risk analysis and the chain effects within Tram and Metro infrastructure.